You are here
Cooperation between UNY and UPSI and UM
Primary tabs
Submitted by

admin

on Sun, 2019-05-12 11:17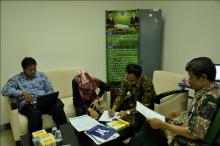 The initiation of foreign cooperation is a program that is very relevant to the Vision of the Master of Sport Science Study Program PPs UNY, namely in 2025 becoming a master study program in sports science that is competitive, creative, innovative and superior in academic studies in the field of sports science in the Southeast Asia region based on devotion, independence, and scholarship. By weighing the strengths, weaknesses, opportunities, and threats related to foreign cooperation, the Master of Sport Science Study Program PPs UNY conducted a visit and in order to establish cooperation with overseas universities in Malaysia.
Program of Collaboration Initiation of Master of Sport Science Study Program PPs UNY to UPSI and UM Malaysia. UPSI was chosen because it has a lot in common including UPSI is a University that focuses on producing teaching staff (LPTK) and is included as the best University of Education in Malaysia and UM is a University that has a Top Ranking in Malaysia and also has a Faculty of Sport Sciences (Sain Sports). As well as UPSI and UM have held the Master of Science Sports Program which has students and cooperation with international.
Prof. Dr. Siswantoyo, M.Kes. AIFO, Prof. Dr. Suharjana, M.Kes., And Dr. Widiyanto, M.Kes. visited on 20 to 23 November 2018 which was warmly welcomed by the UPSI and UM. This activity is to discuss several collaborations including Joint Reseach, Joint Journal Publication, Credit Transfer, Double degree..
Kontak PPs UNY
Jln. Kolombo No.1 Yogyakarta
Telp:(0274) 513092, Fax: (0274) 513092               
512470,586168,psw,282,299,291